VW Atlas – The SUV Showdown

The 2018 Volkswagen Atlas is giving the Ford Explorer and the Honda Pilot a run for their money this year with a German take on a family SUV. The Ford Explorer has been around for almost 3 decades and has become much sleeker over the years, and the Honda Pilot was redesigned in 2016 and is a kid friendly SUV akin to a minivan. The Volkswagen Atlas has a great design and look inside and out with a premium interior well renowned for comfort and a price point within your family's budget.
Both the 2018 Volkswagen Atlas and Ford Explorer are 3 row SUVs that can seat 7 and are both comparable in passenger space. The Honda Pilot has plenty of space and can seat 8, but the 3rd row of seating is only comfortable for kids, which may be an issue for some. Volkswagens are known for their roomy interiors and trunk space, and the Volkswagen Atlas holds true to those standards with approximately 2.2 cubic feet more passenger volume than the Explorer and the Pilot. Where the big difference really shows is in the cargo volume. The maximum cargo space the 2018 Volkswagen Atlas boasts is 96.8 cubic fee with the 2nd and 3rd rows down, while the Explorer has 80.7 cubic feet, and the Honda Pilot is just a tad larger with 81 cubic feet. What could you do with all the extra space that the Volkswagen Atlas provides for people and cargo?
The 2018 Volkswagen Atlas has a 6.5-inch base model touchscreen and Ford Explorer's base model is a 4.2 inch, the Honda Pilot has a base model 5 inch touchscreen. All 3 vehicles are available with Android Auto, Apple Play, Bluetooth, and USB ports.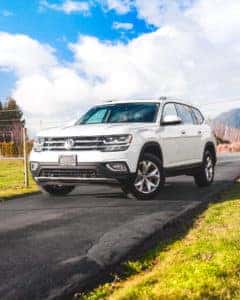 The Volkswagen Atlas has an interior with a more luxury look and feel, letting your passengers enjoy superior comfort and style whether running errands around town or on a long road trip. It also has drift compensation steering, an auto post collision braking system, rain sensing wipers, available driver assist with pedestrian monitoring and a widescreen rear view camera. The Ford Explorer has a standard intelligent 4WD terrain management system plus hill control. The Honda Pilot has a push button gear select which is an interesting concept, but can be awkward to use. It also has forward collision warning and lane departure warning, with other features available in select models. The Volkswagen Atlas, the Ford Explorer and the Honda Pilot have much to offer in varying ways of technology, but the engineers of Volkswagen put thought into the many safety features available to you providing you and your family with ease of mind while on the road without sacrificing comfort or ergonomics.
The engine in a base model 2018 Volkswagen Atlas is 235 HP with a 2.0L turbocharged engine. The higher spec model is equipped with a 3.6L 276 HP V6 engine capable of towing 5000lobs if needed, while the Ford Explorer has a 3.5L 365 HP ecoboost V6 that can tow the same 5000 lbs. The Honda Pilot has a 280 HP 3.5L V6 that has good performance for a large vehicle and can also tow 5000 lbs. It has the power but feels heavy when handling. The Ford Explorer may have the edge on power, but don't let that fool you. The 2018 Volkswagen Atlas' 2.0L turbocharged engine can get you moving quickly if you want to merge on to that freeway. The 3.6L V6 with 4 motion AWD has some gusto behind it as well while remaining fuel efficient.
Fuel economy is one of the most important factors to consider when purchasing a vehicle given the rising price of gas in BC. The 2018 Volkswagen Atlas has 13.7L/100 km city driving and 10.1L/100km highway driving. The Ford Explorer in comparison has 14.5/100km city driving and 10.6L/100km highway driving. The Honda Pilot comes in close to the Atlas at 13.0L/100 km city driving and 9.3L/100 highway driving. Both the Volkswagen Atlas and the Honda Pilot are very comparable in fuel economy, but the 2018 Volkswagen Atlas also has an auto engine turn off, saving you gas, and reducing fuel emissions while you are stuck in traffic or waiting for the traffic light to turn green.
Come into Chilliwack Volkswagen to see for yourself all the comfort, space and luxury the 2018 Volkswagen Atlas has to offer. We would love to answer any questions you may have and show you the many options and features available to you!