VW Tiguan vs Hyundai Tuscon vs Honda CRV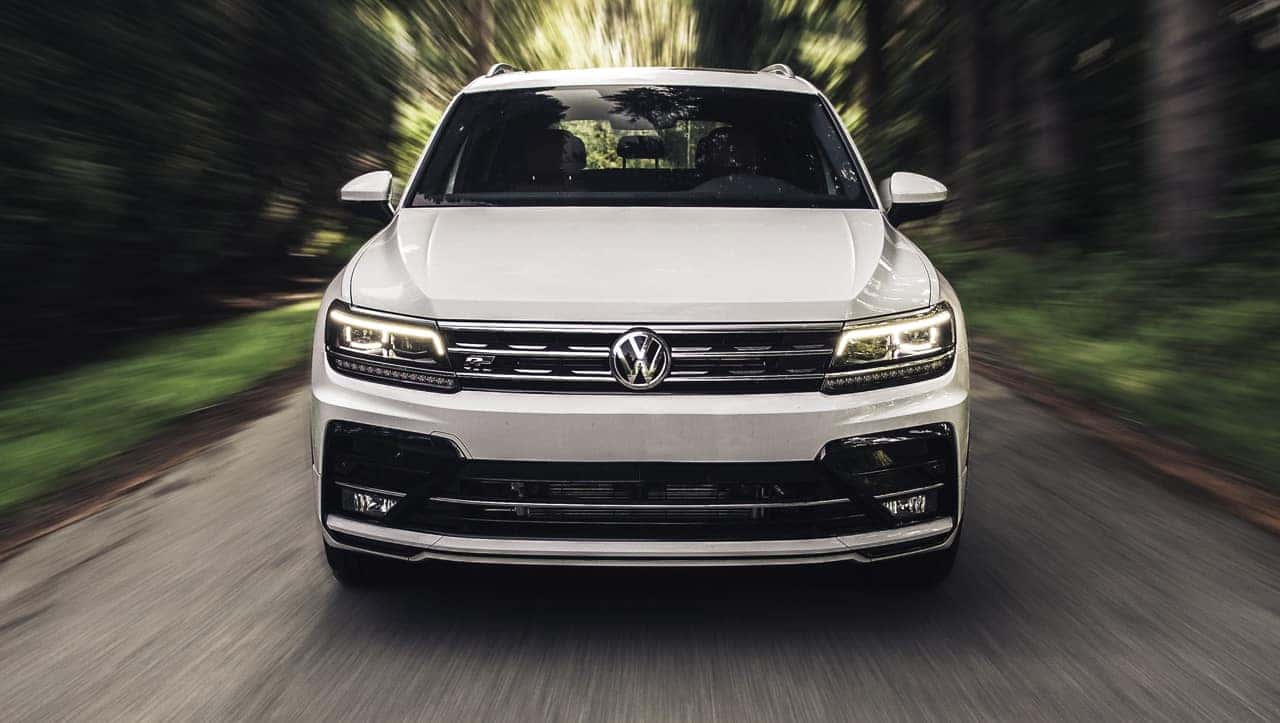 The Tiguan Compared to the competition
The 2019 Volkswagen Tiguan's new model for the current year has grown and can accommodate 7 people. It does have three rows with the third row only practical for children, but there is easy access to it thanks to a rail mounted middle row. Both the Hyundai Tuscon and Honda CRV can seat five, but the Honda CRV has an easy fold down rear seat. The 2019 Volkswagen Tiguan has 25% more space inside compared to previous years, with up to 1860L of cargo space. If you get the 5-seat model trunk space is 1065L or 2080L with the back seats down. The Tuscon and the Honda CRV both come up close with the Tuscon having up to 1754L of cargo space and the Honda CRV having a max of 2146L.
The 2019 Volkswagen Tiguan has an impeccable interior that lives up to Volkswagen's high standards with comfortable seats and driving position. It has an app connect program where you can dictate text messages or listen to them, keeping you safe and undistracted while on the road. Android auto and apple car play are also available for use with the Volkswagen Tiguan. The 2019 Volkswagen Tiguan goes the extra distance offering adaptive LED lights which rotate 13 degrees in either direction; when you turn a corner, so do your lights. Also available with the 2018 Volkswagen Tiguan is a panoramic sunroof, high end fender audio system and a digital dashboard that is similar to an Audi. The Hyundai Tuscon has Bluetooth hands free with available apple car play or android auto. Luxury features are available with the Tuscon such as a panoramic sunroof, heated steering wheel or available vented front seats for summer. The Tuscon comes equipped with standard heated front and rear seats. The Honda CRV has a roomy interior with an available heated steering wheel and available panoramic sunroof as well. Apple car play and android auto is available on all trims of the Honda CRV except for the base LX trim.
The 2019 Volkswagen Tiguan has a stable suspension when cornering but its not too firm. Complete with a 4-cylinder TSI turbocharge motor, the Tiguan has 184HP and 221lb/ft of torque. It is quite fuel efficient performing at 9.8L/100km in FWD, and the AWD only adding an additional 0.4L/100km. City driving for the Tiguan is 10.6L/100km and highway is 8.7L/100km. The Hyundai Tuscon has a 2.0L GDI engine with 164HP and 151lb/ft of torque. It is also available with a 1.6L turbo engine that has 175HP and 195lb/ft of torque. Finally, the Honda CRV has a 1.5L turbocharged 4-cylinder engine with 190HP and 179lb/ft of torque. As for fuel efficiency in the Tucson and CRV, the Hyundai Tuscon in FWD is 10.1L/100 km city and 7.8L/100km highway. In AWD the Tuscon has 9.9L/100km city, and 8.5L/100 highway. The Honda CRV comes up a bit better for fuel efficiency with 8.4L/100km city, and 7.0L/100km highway.
All three models have varying technologies available with them, all being unique and beneficial to each model in their own way. The 2019 Volkswagen has an available 4 motion all wheel drive- power distribution between the front and rear wheels gives it added traction, meaning a safer drive in all seasons. It also has an 8 speed Tiptronic auto transmission- running on lower rpms meaning lower fuel consumption. The Tiguan also has manual style shifting available with the touch of a button. The Hyundai Tuscon has a hill start assist which detects inclines, and downhill brake control which maintains consistent speed while going downhill. The Honda CRV has an available AWD with an intelligent control system, and Honda sensing technologies such as forward collision system, collision mitigating braking system, lane departure warning system and lane keeping system.
Overall, the 2019 Volkswagen Tiguan comes in ahead of the Hyundai Tuscon and Honda CRV in seating capacity, technology and Volkswagen's classy interior and clean look. While it does use a bit more fuel than its competitors, it makes up for that with its power and torque making it a fun car to drive. If you have any more questions about the 2019 Volkswagen Tiguan call us at Chilliwack Volkswagen and we will answer any questions you have!